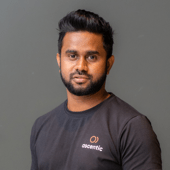 Binara Thambugala
Associate Tech Lead – Software Development
What I do at Ascentic:
Conduct interviews
Review codes and gives technical suggestions.
Collaborates with the team to identify and fix technical problems
Research and development, maintenance, and bug fixing
Fun facts:

Favorite sport: Cricket
Favorite Cricketers: Kumar Sangakkara, Virat Kohli
Favorite TV Series: Breaking bad, Stranger Things
Favorite Movie: The Wolf of Wall Street
Favorite Actress: Margot Robbie 😍
Favorite Actor: Leonardo DiCaprio

Also like to do adventurous things.
Hobbies: Traveling, playing cricket and rugby, watching tv series and movies.